The markets of Delhi and New Delhi are sure a treat for the shopping in Delhi savvy people, If you are price conscious then the street kiosks at Sarojini Nagar Markets are for you if you are an Uber customer looking for high quality branded stuff then straight head for South extension market. In this blog we have tried to include some very famous markets of Delhi. Hope this is an interesting read.
Connaught Place
The markets of Connaught Place are among the most popular places to shop in Delhi. There are numerous shops offering stylish clothes, gorgeous jewelry, and a wide range of books and handicraft items. You can even buy electronics here, including laptop computers. Besides being a great place to buy new clothes and accessories, you can also check out the many food joints Like Nirula's and Wimpy's showcasing a dazzling variety of cuisines. One of the best places to visit in Delhi after dark is Connaught Place. It is a major shopping and entertainment complex in the city. It is also a good place to get acquainted with the diverse culture of Delhi. This is a great place to visit if you're looking for a bargain! But if you're not looking for a bargain, don't worry! There are many places to enjoy a drink in the vicinity.
The Cannaught Place market in Delhi has everything a person could want to buy. The market has stalls for clothes, toys, and even imitation Jewellery. You can also buy souvenirs and items from Janpath market of Cannaught place. The Janpath is also famous for cost efficient clothing ,You can also get bargained prices depending on your negotiating skills. But remember, bargaining is an essential part of Delhi market shopping. Make sure you haggle if you want to get the best bargain.
Palika Bazaar
If you've been to India before, you know that the city is hot, but you may not be aware of the fact that the first air-conditioned market was built underground in India. It was the brainchild of the late Congress leader Sanjay Gandhi, and the NDMC built it during the Emergency. The market opened in 1978, and shops were initially allocated to post-partition refugees. Today, the vast majority of stores sell garments and other goods.
The most famous market for shopping in Delhi is the Palika Bazaar, which is located beneath the Connaught Palace. Here, you can find a variety of clothing and food items at great prices. This market is the perfect place for bargaining, and you can get many great items at incredibly low prices. The Palika Bazaar is one of the best places to shop in Delhi for cheap clothes, electronics, and more. Located in the heart of CP, it has a unique collection of hippie clothes, leather handbags, and backpacks. Depending on your bargaining skills, prices can be negotiated down. You can find a wide range of apparel and accessories, as well as postcards and artificial Jewellery. Book India Tour Packages
Lajpat Nagar Market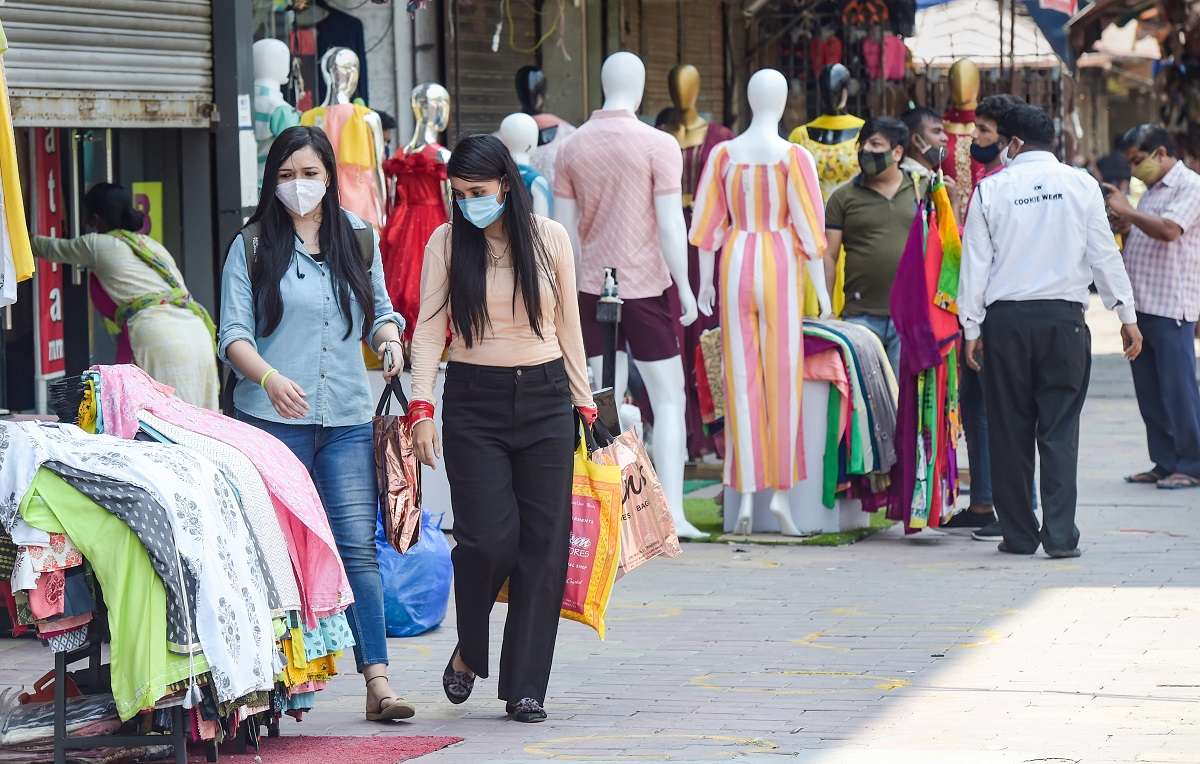 If you're on a budget but want to look good while doing it, Lajpat Nagar Market is the place to go. You can find everything from cheap clothes to a huge selection of jewelry. If you're a girl, you'll want to shop here. But before you go there, make sure you have a bit of time to explore the neighborhood. There are a lot of interesting shops in the area, and if you don't have time to walk around, you can find just about anything you'd like to buy. Book Maharajas Express 
A few places that sell clothing are Ramji sons and Simran Fashions. The first is a very old name, which has 4 outlets in India. Their Salwar suits come in un-stitched and stitched styles, and the second is their famous un-stitched Salwar suit designs. There are many different fabrics available here, including chiffon, crepe, satin, and net.
Karol Bagh Market
For those looking for authentic local shopping in Delhi , Karol Bagh Market in Delhi is the place to go. This market has everything from traditional Sarees to bohemian chic skirts and everything in between. Karol Bagh is also one of the busiest markets in the country, so you'll have to be patient. You'll need to pay close attention to the prices and size before you buy anything.
The area is also home to many fashion and footwear stores. From trendy to trendy, the selection is extensive. From trendy jeans to branded shoes, you're sure to find a pair of stylish footwear that fits your taste and budget. And with prices so affordable, it's no wonder that Karol Bagh has been the center of fashion and design in the city for centuries. And if you're looking for a bargain, Karol Bagh is definitely the place to go in Delhi.
The market has many different sections and is easy to navigate. You can buy silver and gold items in one segment, or find bargains for branded clothes and accessories in another. There are also many stores offering seized high-end products, including expensive perfumes. And of course, food and beverage options abound, with several stalls offering a wide selection of mouth-watering delicacies.
South Extension Market
While in Delhi, you should visit South Extension Market to enjoy a world of shopping in Delhi. Here you can find every product you might be looking for, including Indian delicacies. A favorite among tourists and travelers, this market is busy most days of the week, but Sundays and Mondays are less crowded. You can also enjoy shopping for branded clothes and accessories, and head to the Haldiram sweets and savory store for some great deals.
In South Extension Market, you'll find a plethora of high-end stores and restaurants. You'll also find many pubs, discos, and street vendors selling Indian snacks. During the week, you'll find many office workers, college students, and other elite Delhins strolling through the markets. This is a great place to shop if you're looking for a new dress for a wedding.
Whether you want to buy a dress for your wedding or an ethnic outfit for your daughter's party, you'll find everything you need at South Extension Market. The area is also home to exclusive designer showrooms and retailers selling beautiful designs. From traditional Indian attire to chic western wear, South Extension Market is a must-visit for all fashionistas. When visiting Delhi, be sure to visit the market – it's a wonderful place to find a designer outfit for your big day!
Suggestions
Sarojini Nagar Market
If you are planning to spend a day in Delhi, one of the best markets to visit is Sarojini Nagar market. Located in South Delhi, this market attracts locals and tourists alike. Surrounded by posh residential colony, it is the perfect place for daily needs. Shoppers will find an infinite array of clothing and accessories for a cheap price. Here, you can find everything from designer labels to daily usage clothes.
Food lovers can try out the famous south Indian cuisines in Sarojini market. You will find all types of south Indian delicacies here, including idli and masala dosa. You can also savour momo at Kwic Bitte restaurant. Served with red chili sauce, this delicious snack tastes much better than the average momo. And if you're feeling hungry, make sure to try their smaller version.
Although prices in Sarojini Market are low, be careful about purchasing goods here. Many shopkeepers tend to overcharge their products, so it's always a good idea to check the quality of goods before buying them. Be wary of fake products – they are easily available. Carry several bags while shopping to protect yourself against theft and loss. Some shops do not provide carry bags for their products.
Defence Colony Market
The Defence Colony Market is a central location in the national capital, and is a hub for a variety of retail activities. The area was formerly known as a shopping-cum-residential complex, with the first and second floors intended for residential use. However, following the Master Plan 2021, the area was renamed to a local shopping mall. Commercial units were opened on the first and second floors, which required a one-time conversion charge of Rs 89,000 per square meter. There are also commercial units running in South Extension, Hauz Khas and the Greater Kailash Market.
Defence Colony Market is one of the best places to buy clothing, electronics, and food in Delhi. While there are many upscale stores, you can also find a wide range of food and sweet treats. You can enjoy a tasty Indian meal at a number of restaurants and cafes. For a treat, try one of the many bakeries in the area. Café Brown Sugar and Angels in My Kitchen are popular places to grab a bite and a cup of coffee.
Chandni Chowk Bazaar
If you are planning to visit Delhi and you are looking for some shopping options, Chandni Chowk Bazaaar is the place to go. The 17th century labyrinth has everything you want from traditional Indian wares to modern fashions. From handmade rugs to souvenirs, Chandni Chowk is a must-see for shoppers.
If you want to find great deals on clothes and other items, head to Chandni Chowk Bazaaar. This market is divided into several small streets. It has everything from cheap clothing to yummiest food. From handmade handicrafts to exclusive dry fruits, there is a place for you. The atmosphere is chaotic, yet charming. There's something for everyone here.
Nehru Place Market
A trip to Nehru Place Market in Delhi is easy with Moovit. You can access Nehru Place Market in Delhi using various modes of transport. This area is located near the Outer ring road, which circles the major parts of South Delhi. It also has frequent private cab facilities. However, it's worth noting that the area is not particularly clean and well-maintained. To find a good restaurant, try Sona Sweets & Restaurant.Nehru place is particularly famous for Computer hardware and software, laptops, computer accessories, camera and other electronic devices There are some street food restaurants as well at Nehru place famous for their tasty food at very cost effective prices.
Bhagirath Palace Electronics Market
If you are planning a trip to Delhi, do not forget to visit the Bhagirath Palace electronics market. This market is considered the largest wholesale market in Asia and is located in Chandni Chowk. Many electrical goods are made in China, and the price of fancy electric lights in India has surged by over five per cent in the last three months. However, you can buy these goods in India, if you plan your trip carefully.